Colleyville Adult Fitness Training Programs
Get Fit with Our Proven Strength & Conditioning Classes
Even if you're experienced in the gym, it always helps to seek the guidance of a professional coach. That way, you know you're getting the best possible workout while targeting muscles in a way that allows for optimal growth and strength.
At D1 Training Colleyville, we provide custom workout plans and programs provided by knowledgeable and experienced coaches to help you get fit and meet your goals. Whether you're an experienced athlete looking for assistance with staying on top, or a working adult looking to get in shape, we can help.
Click here to request a class—the first one's on us!
Our List of Programs
Our gym in Colleyville offers classes that utilize group training as well as one-on-one attention. Combining both types of workouts allows you to receive the benefits of group settings while tailoring workouts to best suit you. We offer the following classes:
Check out our newest offer: The 8 WEEK CHALLENGE!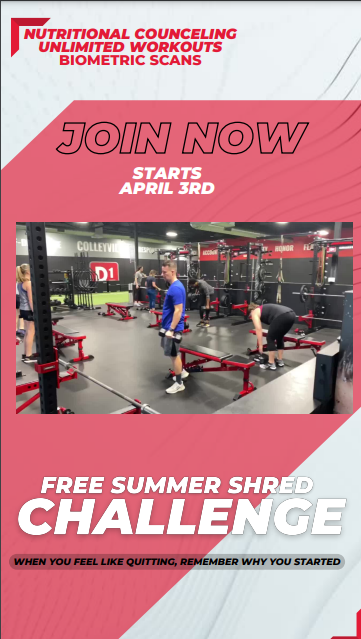 Our Colleyville coaches can help you get into shape, whether you're interested in the boot camp or getting fit with your family. All our programs are held in our specialized facilities so you and the group will have access to the same state-of-the-art equipment, coaching, and physical therapy that professionals receive.
Why Group Classes Work Better Than a Gym Membership
A study published by the Journal of the American Osteopathic Association shows that working out in a group setting, rather than alone, results in less stress and and improved quality of life in many spheres: physically, mentally, and emotionally. There are a lot of reasons that contribute to the benefits of group classes and workouts, and here are a few of them:
Motivation – Exercising in a group, where everyone is doing their best, is a great motivator for you to do your best as well. Once you see your teammates doing great, you'll do great too.
Bonding – Group exercising allows for more bonding with your friends and family because you're working together.
Accountability – When each person in a group sets a goal and works toward it together, it provides additional motivation to meet those goals.
With the benefits of taking a group class in mind, remember to sign up for our boot camp or family programs in Colleyville! You'll be able to experience a higher quality of life and increased motivation and grow your strength in no time.
Work Out with the Best
Our Adult Fitness Training classes at D1 of Colleyville bring the best training to you. Our trainers know the best workouts to achieve the results you are looking for by targeting the key areas to show results. Setting goals, bonding, and developing a commitment to training can not only help you see the fastest results but also help you outside in achieving your best at work and in life. We want to see you achieve and reach your goals and by training with us we will make sure you are prepared to get the results you are looking for.
The D1 Training Colleyville Difference
We bring the benefits of group fitness training and individual classes so you can maximize the gains from both—that means you'll be able to exercise in a group but also receive one-on-one training to target specific muscles and help meet your personal goals. Our facilities are also specialized, providing you unique options like sports medicine and physical therapy.
Because we work with professional athletes, who often require specific attention to remain in top-shape, working with our coaches opens these options to you as well. Your workouts will be personalized to you, and you'll have access to the same specialized facilities as the pros, even a custom nutritional plan. We want you to reach your goals and get fit, so trust in us to get you there.
Looking for an adult fitness training program in Colleyville? Call (817) 755-1172 or you can request your first class for free!