Personal Training in Cranberry Township
D1-ON-1 TOP-TIER PERSONAL TRAINING PROGRAMS NEAR YOU!
Looking for a 1 on 1 fitness training program with a professional Cranberry Township trainer? Bolstered by a scientifically savvy, cutting-edge fitness brand. We have spearheaded the workout industry for over 18 years. D1 Training North Pittsburgh is proud to offer unrivaled fitness services. There is a reason why D1 Training was recently chosen by Men's Health as one of the Top 30 Gyms in the country. Our core 5-Star Training Program is one of the very best workout plans there is. Perfected by a qualified, nation-wide committee of professional athletes and fitness training experts. The program follows the same basic doctrines of elite Division 1 Strength & Conditioning Programs. We work to understand who you are and what your personal goals are. This way, we can deliver to you a personalized experience you are excited for!
GET TO KNOW OUR CRANBERRY TOWNSHIP TEAM OF TRAINERS, COACHES, AND FITNESS SPECIALISTS BY CLICKING HERE. OR CHECK OUT OUR GLOWING TESTIMONIALS!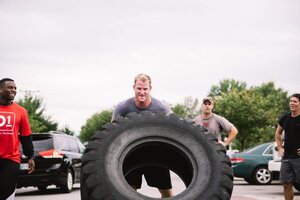 At D1 Fitness, we don't create one-size-fits-all templates. Cognizant that every body type and personality has unique athletic potential. We tailor our Cranberry Township personal training services to each person. Depending on your age, training, mobility, flexibility, and strength. We create a personalized schedule and game plan that suits your ambitions and physical needs. If you are looking to cut a few calories. Or striving to win an Olympic gold medal. We will treat you equally: providing you with the attention and focus you deserve. Every individual has much to gain from personal training. Becoming attuned to your body and idealizing your best self can transform your life. We are here to make that happen.
THE SCIENCE, NUTRITION, AND CORE TENETS OF D1 TRAINING
To achieve the growth we know you are capable of, it sometimes takes more than consistent hard work. Taking advantage of our nutritional advice and workout techniques. You will be able to compound the effort you put in with ultra-effective practices.
Here are some physical fitness specialties our personal trainers excel in:
Accountability – When breaking bad habits and building healthier ones, staying consistent is everything. There are the biggest obstacles our personal trainers often observe. And they are often more from personality than physical capacity. Learning to discipline yourself and stay focused, you will soon surmount any challenge.
Positive Mindset – An optimistic attitude and outlook can make tremendous strides toward change. That is why our personal trainers are fluent in the art of uplifting your spirits. Encouraging and inspiring you in new ways. Our trainers do everything they can to boost your self-esteem and confidence in no time. Once thriving mentally, it is much easier to manifest benefits of physical fitness.
Compassionate Energy – Working out can be hard. Sometimes, it can feel intimidating. We understand that nothing in life comes easy. Our personal trainers offer the emotional support and words of understanding. You may need to hear from time-to-time to feel rejuvenated and cared for. There is no need to punish or be cruel to yourself with harsh and aggressive demands. Acknowledging improvement and reaffirming small victories. We promote fitness growth through motivation and positivity.
Healthy Meal Plans – Our workouts are not the only area we personalize and regularly tweak . We also provide informed nutritional guidance. Working with you to create concrete objectives that align with your appetite, health needs, and lifestyle. Every individual has a different relationship to food. Different priorities when it comes to refueling their body. We help you brainstorm and optimize your diet. Our personal training experts are here to keep you on track. And recommend healthy options.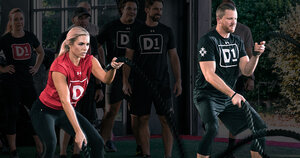 One-On-One Expertise – Going to the gym by yourself can feel overwhelming. With so many machines and workout equipment to choose from, it is hard to know what fitness route to take. With tried-and-true, periodized workout routines. And the individualized approach of a personal trainer. You will find yourself maximizing the ratio of energy output to physical gains. Following a reliable physical fitness regimen can make a tremendous difference. It provides long-lasting benefits.
Quality Facilities – Our state-of-the-art D1 Training fitness centers offer everything you need. All in one place. We are much more than your average gymnasium. With therapy centers, turf fields, strength training rooms, and comprehensive workout equipment. On-site personal training classes will reap all the benefits of our top-notch facilities. Instead of buying a pricey home workout setup. Then struggling to regularly inspire yourself to break a sweat. Let our personal training services be the all-inclusive solution.
Give us a call at (724) 262-5991 or fill out this easy online form to book a free trial class in Cranberry Township today!