Athletic Training Facility in Upper Saddle River
Top-Rated Sports Trainers Near You
Are you stuck in a rut when it comes to your exercise routine? Is your local gym overcrowded and underequipped? It sounds like you need to come to D1 Training Bergen County to discover a better alternative to sports training!
For more than 18 years, D1 has been giving professional athletes, like NFL Draft Picks and sports newcomers, an engaging space to work out. Using our 5-Star Training program that is based on athletic sciences, we are ready to help you crush your goals, no matter what they may be.
Give us a call at (201) 905-2387 or contact us online to get in touch with professional sports trainers near you today!
Adult Sports Training in Upper Saddle River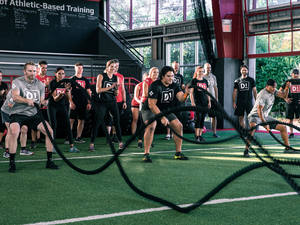 Looking for elite athletic training programs? D1 Training Bergen County is for you! We offer:
Adult boot camps
D1-on-1
Family workouts
Strength training
Scholastic Training
Or scholastic training is designed for youth! We offer:
Rookie training
Developmental training
Prep training
Overtime training
Check out our scholastic training page to learn more!
Reach your potential with our Bergen County athletic trainers - call (201) 905-2387 or contact us online for a free trial membership!

Sports Camps and Skills Clinics
Does your youth want to master a specific sport? We offer youth sports and skills clinics that are just for you!
Visit our clinics camps page for more info!
We know that you are not like the next person who walks through the door of our Upper Saddle River sports training facility. Everyone is different, especially when it comes to exercise goals and needs. Our coaches can craft a workout program as unique as you are so you can look and feel better, regardless of age, strength, or skill level.
To begin, you can schedule an initial consultation with one of our expert coaches or personal trainers. During this time, you can see what our athletic training facility has to offer, as well as the D1 difference that people across the country know and love. We know you'll be eager to join up and get flexing!
Click here to check out a virtual tour of our facility!
Looking for the best gyms in Bergen County? We've got you covered! Give us a call at (201) 905-2387 to get started!
Try Us For Free