Special Offers
fall into fitness 6 Week Transformation Challenge
Hey Ladies and Guys! We're looking for about 15 Individuals who want to GET INTO THE BEST SHAPE OF THEIR LIVES with our newest (and best) transformation program for 6 weeks to transform your bodies. Tone up those Abs & Arms, lose the Body Fat and gain Strength!

HERE'S WHAT TO EXPECT:
Quick, fun, calorie killing workouts to get toned and burn fat
A Super Simple meal plan to get results and still have the weekends, includes tons of tips & guides
Body Composition Analysis
Tons of accountability support to ensure not just hitting goals, but CRUSHING THEM‼️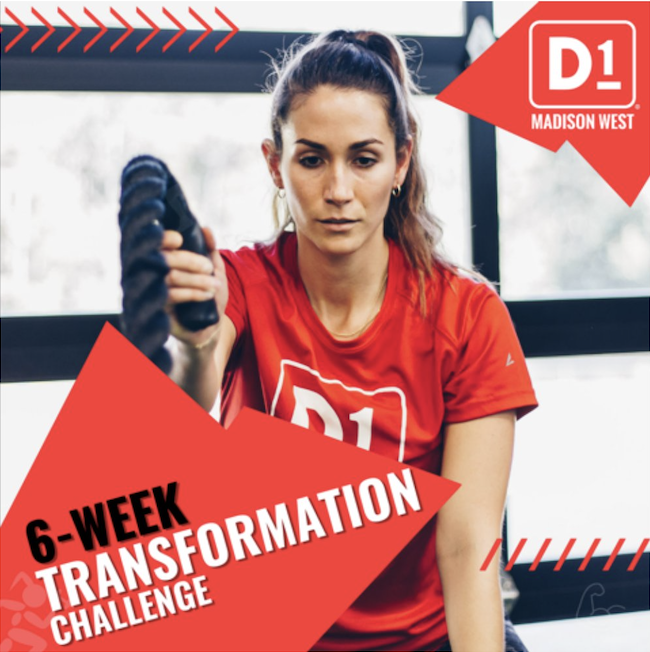 Transformation in what you are looking for
---
FREE workouts for all veterans at D1Training Madison West! We are proud to partner with @heroesmovement to provide

100% free strength and conditioning group workouts to any veteran of the US military. Call us now at (608) 535-5946 to get signed up.
---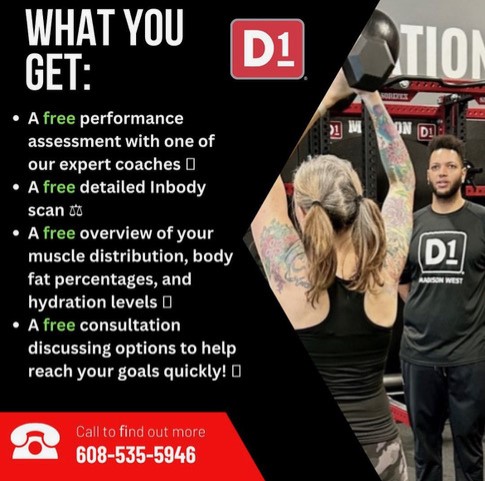 ---
IN SEASON SPORT TRAINING
Peak Your Performance by Continuing to Train in Season
Personal Training Packs - Work one on one with our expert coaches. Programmed workouts customized to your schedule & goals

Limited Group Memberships - 2 times per week. Decrease your frequency to allow for in season practices/games while still moving your training forward. Increase reps, decrease loads, maximize speed and agility.

Workout Packs - Allows for group training when your schedule permits. Best for busy schedules!
---
PAID IN FULL MEMBERSHIPS
1 Year, 6 Months, 3 Months
Best Pricing when you pay in full
Pay at once or monthly
Up to 6 workouts per week
Free Mental Performance Training Initial Session with Acker Performance
D1 Tshirt
InBody Body Composition Testing and Consultations
***Family Discounts - 2nd Family Member is 20% off Regular D1 Membership