ADULT FITNESS PROGRAMS & CLASSES IN Cranberry Township
FULL Body FITNESS Boot Camp Near You
Ready to find an adult fitness program that you can find results with? D1 Training North Pittsburgh is here to get you on the road to your fitness goals! Whether you're researching gyms or fitness boot camps in Cranberry Township, you've come to the right place. Don't opt in for workout programs that focus on the latest trends. Turn to a fitness facility that focuses on delivering exceptional results. Our fit body boot camps are rooted in science. Our adult training fitness programs help you learn the timeless training methods. Proven to help you get you body fit. Our certified and experienced professional trainers understand how to help you get on the right track. All with our D1 training workouts and boot camp programs!
SIGN UP FOR A FREE TRIAL WORKOUT TODAY BY CALLING US AT (724) 262-5991 OR CONTACT US ONLINE NOW!
OUR ADULT FITNESS TRAINING PROGRAMS INCLUDE: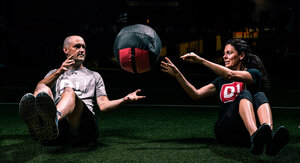 Boot Camp – This 54-minute fitness full body boot camp workout is designed to make you sweat. It gives your body results that will last. During this high-performance workout, your body will realize its greatest potential. Our boot camp includes workouts that focus on strengthening. As well as conditioning, mobility, and a major calorie burn.
Strength Training – Our 8-week strength training program is guaranteed to produce results. Perfect for athletes of all types. Our D1 coaches will provide you the direction, motivation, and community to achieve your goal. Our strength training program is designed to increase lean muscle mass in both men and women.
D1 Overtime – This is a semi-private personal training program. Our coaches will work with you to develop and target a specific goal you want to achieve. Designed to help athletes excel in their sport. Our team will help you enhance your strengths and improve any of the other areas of development.
D1-on-1 – Completely private and personalized! This personal training program will pair you with one of our expert coaches. They provide a customized workout that will target your goals. In our D1-on-1 personal training plan, we'll provide careful direction. All to ensure you are maximizing your results during every session.
Family Training – If you're searching for adult workout training for the whole family, we have that as well! Designed for family members 7 and up. Our customized family fitness training plans will help your "home" team learn effective workout skills. You'll sweat towards a healthier future – together.
Whether you're searching to lose a few pounds, increase strength, or improve your endurance. Our fitness trainers will help you hit whatever goal you may have. Designed to achieve results. Our group and personal training programs help you get the results you've been dreaming of. This is what makes training and working out at our gym in Cranberry Township unlike any other gym experience.
Dial (724) 262-5991 or contact us online to learn how to try our fitness boot camp near you and more!
PERSONAL FITNESS Boot Camp TRAINING IN Cranberry Township
All our fitness training programs are led by our team of Cranberry Township and Pittsburgh personal trainers and coaches. If you're looking to improve your game or muscle mass. Our personal trainers are here to give you the support, knowledge, and tools to not only break a sweat. But achieve your fitness goals!
SOME BENEFITS OF OUR PERSONAL TRAINING INCLUDE:
Motivation – Our D1 coaches will give you the motivation needed to maximize your workout potential. From cheering you on during your last rep to giving you the reassurance you need. We're here to motivate you every day of your personal training program.
Accountability – Without accountability, it's impossible to achieve even the simplest fitness goals. Every step of the way, our coaches and personal trainers will keep you accountable. They'll keep you focused on the goal you're looking to reach.
Achieve Goals – At D1 in North Pittsburgh, we love to see you achieve the fitness results. We use results-driven workout programs. Our coaches and personal trainers will give you everything you need to achieve your fitness goals. All you have to do is show up.
Knowledge – From your first or hundredth time stepping into a fitness gym. Our personal trainers give you the answers to your fitness-related questions. All to keep you up to date on your knowledge every time you come to our Cranberry Township fitness gym.
There's no question why athletes continue to choose our team for their fitness training. With all these benefits of our Cranberry Township personal trainers offer. No matter your experience in or out of the gym. You can rely on our expert team to customize a workout specifically for you.
OUR FITNESS TRAINING PROGRAMS ARE NOT A TREND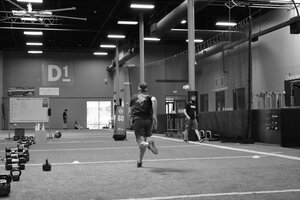 Gyms tend to promise a lot of things. While D1 Training North Pittsburgh is unlike any other gym you've set foot in, we can promise you one thing: results. Backed by decades of experience using a scientifically backed and results-driven workout program. You can rely on our locally owned and operated team of fitness experts! Get you the results you've been searching for. Advanced fitness training facilities, and an expert team of coaches. We'll give you everything you need to achieve your biggest fitness goals.
Join the D1 Training Community
At D1 Training North Pittsburgh, we are more than just a gym. We are a community of like-minded individuals who are committed to achieving their fitness goals and supporting each other along the way. Our adult fitness programs and classes in Cranberry Township are designed to challenge you, push you to your limits, and help you become the best version of yourself.
Here are just a few reasons to join the D1 Training community:
Access to top-notch trainers who will personalize your workouts and help you achieve your fitness goals
A welcoming and supportive community of individuals who will encourage and motivate you to push harder every day
State-of-the-art facilities and equipment that will help you maximize your workouts and see results faster
Fun and challenging workouts that will keep you engaged and excited to come back every day
The opportunity to train like an athlete and achieve peak physical performance
Don't just take our word for it. Join the D1 Training community today and experience the benefits for yourself!
Give our team a call today at (724) 262-5991 or contact us online to learn more about our fitness gym in Cranberry Township!