BOOT CAMP STYLE WORKOUTS IN BOISE
LOSE WEIGHT, BUILD MUSCLE & IMPROVE OMIT WELLBEING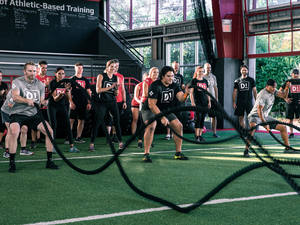 Ready to finally reach those fitness goals you've been dreaming about for some time,? You've come to the right place. At D1 Training Boise, we will push you to your limits and help you reach exciting new heights. We are a results-driven athletic training facility that is more than just another gym. We don't make false promises and aren't another trend – we deliver results. Our fitness boot camp for adults workouts were designed by elite industry professionals. They consists of high-intensity workouts that will challenge people of every fitness level. If you're looking to get fit and feel good, our boot camp workouts in Boise are the best way to do so.
Our boot camp training is designed for:
Long-lasting results - At D1 Training Boise, our workouts are designed to help you reach your fitness goals and provide long-term results.
Enhanced strength training & building muscle mass - Our high-intensity exercises will target different muscle groups, helping you to build muscle mass and increase strength.
General conditioning - Our 8-week boot camp will help you get in shape and stay motivated. It will also increase your stamina, strength, and endurance.
Improved mobility - Our professionally designed workouts will help you improve coordination and balance. You will also have better overall control of your body movements.
Burning calories - Our workouts will keep you moving and burning calories.
The best part of our Boise boot camp workouts? All you need to do is show up. Bring yourself and your dedication and we'll provide the rest. Our athletic-based training programs will prove that you are capable. Far more than you realize. All you need is someone to motivate and push you to keep going.
Ready to tackle those goals? We are standing by to get started. Contact us at (208) 469-4596 to try us for free.
WE OFFER MORE THAN OUR COMPETITORS
You have quite a few options when it comes to gyms and fitness centers in Boise. Many make big, bold promises. Or get you through the door with introductory specials. All only for you to realize that all it's another average gym. D1 Training Boise is not that kind of fitness center. We aren't a fad and don't try to sell you on unrealistic expectations. Our trainers committed want to see you be your best health and fitness. We provide a supportive community. High-energy environment where everyone trains at their own pace. And inspires one another along the way.
Our Boise fitness and sports training facility also offers:
A specialized facility with custom equipment you won't find elsewhere
Targeted workouts that build from one week to the next to keep you on track to hit your goals
Training programs backed by sports science and designed by a national training panel
D1 Training Boise is a locally owned company backed by a national brand with over 18 years of experience. We offer a complimentary workout or class so that you can see why we are a step above the rest.
SOMETHING FOR EVERYONE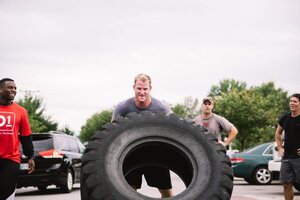 We offer more than our boot camp style workouts. We also offer a variety of other athletic performance training programs and services. They fit the needs of people of all ages and fitness levels. From professional athletes to beginners, individuals to families, we are a great fit for anyone. Anyone who wants to improve their mental and physical health.
Some of our additional services include:
One-on-one personal training
Scholastic training
Pro training
Family fitness
Want to get fit but don't want to go to the gym? D1 Training Boise is happy to also offer online coaching. Our certified trainers will deliver challenging workouts. All right in the comfort of your home.
TRY US FREE!
D1 Training was proudly named a Top 30 Gym by Men's Health. Our facilities have trained over 1,000 professional athletes and over 100 NFL Draft Picks. We are also a great place for families to bond over a healthy activity. We offer a free class or workout to give you a glimpse of what you can expect when you join. So reach out to us today to take the first step to a happier and healthier future.
Together we will reach new heights! Give us a call today at (208) 469-4596 to learn more about our Boise fitness boot camp.