Boise Sports Training for Kids & Teens
Get Fit with Our Proven Strength & Conditioning Classes. Try us for free today.
D1 Training Boise offers sports performance programs that help student-athletes reach their full potential and become faster, stronger, tougher, and more confident individuals. Students enjoy working with our professional athletic trainers who are skilled at encouraging, pushing, and guiding athletes to championship-level performance.
Mental and Physical Fitness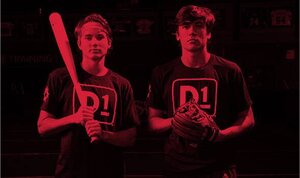 At D1 Training of Boise, our goal is to prepare your children for to be at the top of their league. Mental and Fitness training allow them to excel in the classroom but also on the field, or on the court! By working with our professional trainers at our state-of-the-art training facility we can help them achieve and meet the goals of being a world class student athlete. At D1 Training of Boise they will train with likeminded peers to not only grow their skills but also long-lasting friendships.
We Offer Sports Training for Kids & Teens Competing in:
Football
Soccer
Baseball
Basketball
Hockey
Swim
Cheer
And More!
Give us a call today at (208) 502-2822 to learn about our programs.
Reasons Youth Athletes Love Our Training Facility
Builds a Foundation for Life-Long Habits
Trainers are Friendly & Committed to Student Well-Being
Training is Designed to Help All Ages and Abilities
A Family Environment Students Look Forward To Visiting
Youth Sports Training FAQ
What Is Youth Sports Performance Training?
Our youth sports performance training is a program designed to help students improve athletic ability while also developing character in terms of personal values, principles, and self-esteem. The programs help students to grow in discipline to achieve fitness goals such as speed,
strength training
, and endurance.
What Age Should a Child Start Athletic Development and Strength Training?
According to the Mayo Clinic, strength training can become an important part of the child's overall fitness plan starting at age 7 or 8. Our Rookie Program is specially formatted for boys and girls between the ages of 7 and 11.
How Often Should My Young Athlete Train Per Week?
Many parents wonder about how much time should be spent on training. We generally recommend youth athletes train no more than 18-20 hours on a weekly basis to stay healthy and balanced.
How Many Athletes Are Typically in a D1 Training Boise Scholastic Training Program?
Class sizes on average range from 10-20 students to maintain an ideal environment for young learners.
Our Youth Programs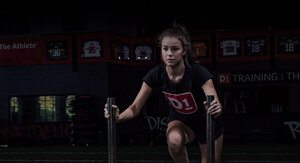 Rookie: This program is dedicated to athletic development in boys and girls between the ages of 7 and 11. These classes lay a foundation for coordination, work ethic, and a long-term healthy lifestyle.
Developmental: The Developmental group age range is 12-14 years of age. New skills come into focus like strength and weight training. Students begin to learn why and how of injury prevention.
Prep: The age range for this program is 15-18. The program is based on the design of the Division 1 collegiate program. Strength, mobility, advanced conditioning and a wide and complex range of topics are covered.
Overtime: Students who have specific goals will sign up for this program. Each syllabus is designed to focus on the unique sport and team position that the student wants to focus on. Private training and coaching is also part of this program.
Learn more about our programs for youth sports training by calling us at (208) 502-2822 or by signing up for free.