Boise Personal Training Programs
Personal Trainer NEar You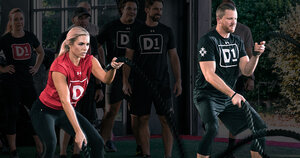 D1 Training Boise warmly welcomes anyone and everyone into our training facilities. Don't be worried about your athletic level, body type, age, or mobility. We're equipped and ready to motivate you to new levels of success in physical fitness. What is our definition of success? Good question! Success will mean different things to different people.
Fitness is not a one-size-fits-all enterprise. Thus, we personalize all our fitness programs and workout schedules for each individual. With a personal trainer, you can rest assured that we put you on a path to success. We'll push and challenge you within your unique limits in a way that optimizes consistent progress. We'll be there to support you along the way and congratulate you as you accomplish your goals.
Get in touch with a personal trainer in Boise, ID today! Call us at (208) 502-2822 or contact us online!
About Our Boise Personal Training Program
Some trendy fitness centers try to cram every person into the same broken template. We represent a cutting-edge fitness brand. D1 Training has serviced the workout industry for more than 18 years. We emphatically and confidently attest that our physical training approach.
What makes our personal training programs special? Keep reading to learn more:
Personal Training Backed By Sports Science. We implement the core 5-Star Training Program. This program is continually refined by an elite panel of athletic specialists and fitness experts from all over the nation.
Train Like a Division 1 Athlete. We share the same fundamental tenets of Division 1 Strength & Conditioning Programs. We offer a tried-and-true fitness system with research and case studies to back it up.
You Get a Team. Our motto is "Iron Sharpens Iron". Here, you get to train with a team and community of fellow fitness-goers. You'll be a part of this remarkable team bolstering the D1 community.
It is no surprise we were recently chosen by Men's Health as one of the Top 30 Gyms in the country. Give us a try for free to see why our personal trainers are a great fit for you.
Looking for a certified personal trainer in Boise? Call us at (208) 502-2822 or reach out online. Try us for free today!
PERSONALIZED ATTENTION IS EVERYTHING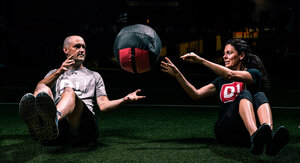 The key to personal training is tailoring our program to you. Our personal trainers have the experience and expertise to figure out your ideal workout plan. We'll also put together a schedule that maximizes your individual needs, including elite athlete training. More importantly, our trainers understand the complex dynamics of human psychology. When faced with the duress of physical strain and aerobic activity, your mind can panic and quit. To avoid these scenarios, our certified personal trainers are trained to know what to do.
There are times when you'll need to be motivated, inspired, and encouraged. Other times, our approach needs to be sympathetic, attentive, and supportive. Whether you need to be challenged and pushed a little harder or congratulated and understood, we're here to help. Our personal trainers will focus on satisfying your immediate physical and mental needs.
7 Benefits of our Personal Training
Some notable advantages of our Personal Training services include:
Upbeat Atmosphere – Creating a buoyant and optimistic environment is a must at D1 Training Boise. Motivating personal trainers who specialize in the art of positive reinforcement. Our team of trainers and coaches use all sorts of stimulating accessories. Whistles and music systems create fun. Choreographed workout routines and get your energy soaring.
Versatility – We offer a dynamic array of fitness programs. Our personal trainers will intelligently and thoughtfully set up your weekly regimen. We emphasize athletic periodization. We use a proven technique of incrementally adding new layers and nuances to cyclical fitness routines.
Access to Facilities – Modeled after D1 University Sports Programs. Our D1 Training facilities consist of on-site therapy centers. Also, multilayered turf fields, state-of-the-art strength and training rooms. Customizable workout equipment, and chill lounge spaces.
Character building – Sure, the physical benefits of feeling healthier. Slimming down, and unlocking new levels of stamina are awesome. But improving your confidence and self-love are even more important. We alter your self-perception. Hold you accountable at every step of the way. Our trainers will help your overall outlook vastly improve.
Expertise – D1 Training Boise offers much more than personal trainers. We have a professional network of scientists, nutritional experts. As well as professional athletes, and sports doctors. Our comprehensive resources and brilliant collective of minds are work to improve our approach. Physical training and athletic excellency and more.
Online Possibilities – Modern life can be hectic and busy. We also offer personal training programs and services online. This can be a game-changer for many. The ability flexibly to schedule fitness training appointments. More available in time and location can make staying in shape possible once again.
Call (208) 502-2822 or contact us online to consult with a D1 fitness trainer today!
Why Choose our Boise Personal Trainers?
We're people just like you. We understand that achieving your fitness goals requires dedication, motivation, and expert guidance. That's why we are here to help you reach your full potential.
At D1 Training Boise:
Choosing the right personal training service can make all the difference in your fitness journey. With us, you'll have the support, expertise, and personalized approach you need to unleash your full potential. Let D1 Training Boise be your partner in achieving your fitness goals.
Ready to get started on your path to success? Call our personal trainers in Boise at (208) 502-2822 or reach out online today. We offer a free trial!
Frequently Asked Questions
Do I need to have any prior fitness experience to join your personal training program?
No, prior fitness experience is not required to join our personal training program at D1 Training Boise. Our certified trainers are experienced in working with individuals of all fitness levels. Whether you're a beginner or an experienced athlete, we will tailor the program to your specific needs and abilities.
How often should I attend personal training sessions?
The frequency of your sessions depends on your individual goals, availability, and preferences. Our trainers will work with you to determine an appropriate schedule. Whether you choose to train multiple times a week or once a week, we will design a plan that fits your needs. Trust us to help you achieve your desired results.