Adult Training in Deerfield Beach
No Gimmicks, Just Results
At D1 Training Deerfield Beach, we have fine-tuned our workout programs to accommodate every physique. Whether you aspire to burn fat, tone muscle, increase flexibility, or prepare for an athletic event/competition, our adult training regimen in Deerfield Beach combines high-energy Boot Camp-style classes with strength and conditioning exercises to deliver maximum results. We also offer 1 on 1 training!
Request your free adult training class at our reputable Deerfield Beach gym by calling (954) 280-9663 or submitting your info online today!
After years of research, we've perfected our adult workout system to optimize the upsides of exercising and simultaneously reduce burnout. Following scientifically proven methods and a consistent schedule, we train the entire body with a balanced approach to avoid injury and fatigue.
Alternating between different focal points each session, we ensure that every part of the body incrementally strengthens. Our methods also provide muscle groups the rest they need to stay healthy.
Much More Than a Gym
We are a non-traditional fitness facility that emphasizes the value of knowledge and sports science at every turn. Our proprietary 5-Star Training Program is best in class.
Crafted by our elite panel of fitness specialists and sports doctors/scientists, we designed it to boost speed, flexibility, and strength. Backed by more than 1,000 professional athletes working at D1 Training facilities nationwide, our Deerfield Beach trainers pull from direct experience and firsthand knowledge to guide you toward success.
We know what it takes to boost athletic performance and get into excellent shape. Catering to newcomers, competitive athletes, and fitness enthusiasts, our 5-Star Program is all-inclusive: We can customize it for individuals at any athletic level.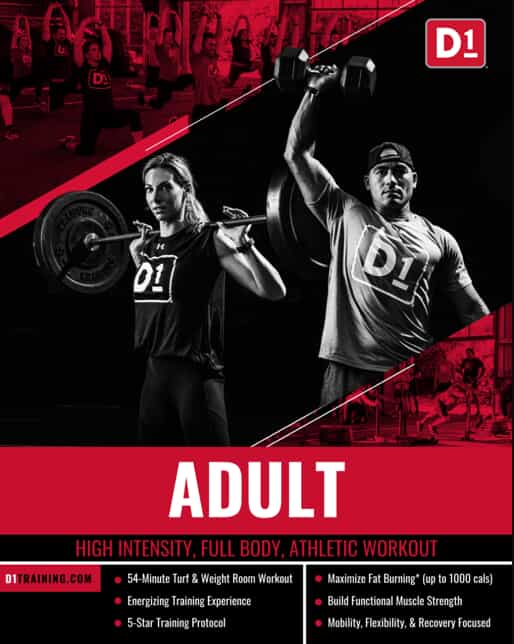 Call (954) 280-9663 or contact us online to book your trial adult training class in Deerfield Beach today!