Strength Training in Deerfield Beach
Professionally Curated Workout Routines
D1 Training Deerfield Beach is ready to help you healthily build muscle mass. Personalizing our scientifically supported 5-star Training Program just for you, we will create a fitness schedule finely tuned to your body type and athletic aspirations.
Our strength training program in Deerfield Beach focuses on resistance and muscular contraction to improve anaerobic endurance and skeletal muscle size. By implementing exercises, sets, tempos, and reps in a dynamic manner, we will keep your strength and conditioning routine exciting and challenging.
Strength training has many benefits, including:
Increasing muscle mass
Burning calories and accelerating weight loss
Treating chronic ailments such as back pain & arthritis
Improving joint flexibility and balance
Reversing muscle atrophy
Boosting vigor and bone density
Reducing the risk of future injuries
Learn more about strength training at our gym in Deerfield Beach, Florida by calling (954) 280-9663 or contacting us online today!
yOur Elite Personal Trainer in Deerfield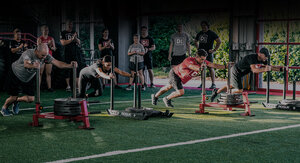 When you join D1 Training Deerfield Beach, you become part of a highly motivated and goal-oriented community. Over two decades, the extended D1 family has transformed the lives of over 2 million athletes nationwide. Our team promotes a culture of hard work, emotional support, and embracing challenges with positivity – every rep along the way.
With fun and diverse workout sessions, we will help you gradually build strength without overburdening your body. By customizing our workout schedule to optimize growth and ensure recovery, we will have you looking and feeling your absolute best in no time.
Give us a call at (954) 280-9663 or contact us online to consult with a professional personal trainer in Deerfield today!