Apex Air 7-on-7 Football
Mission Statement
It is our goal to prepare our athletes to dominate in their school season and compete at the next level. We are dedicated to providing a professional environment where athletes will have the opportunity to develop advanced techniques, skills and further test themselves in a competitive environment. Character and work ethic are foundations of athletic development and will be the pillars we build upon. We will hold high expectations of all those involved to conduct themselves with respect, uplift those around them, challenge themselves, and commit to the process of development.
"The achievements of an organization are the results of the combined effort of each individual."
Vince Lombardi
APEX Air 7-on-7 is a developmental football program for athletes ages 10 to 18. We will be fielding teams to compete in the 12, 14, and 18u divisions. Beginning in February, Apex Air will practice 2-3 days a week, and continue through the end of April.

Focus will be put on technical skill development and positional football IQ in a team-driven, competitive environment. At Apex Air, every athlete will be given equal opportunity to improve their skills and take their game to the next level. High-level coaching and a commitment to excellence will be the driving force to chasing your athletic dreams.

Along with our regular practice schedule, we will offer the opportunity to compete in tournaments within the state of Iowa. Our mission is to build the most competitive 7-on-7 program in all of Iowa and beyond.

If you or your child are looking to improve their skills, while learning how to compete and operate in high-level team environments, we are here for you. For questions or details, please contact:
Coach Karter Schult - Director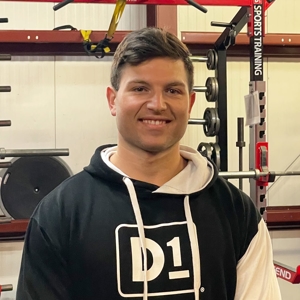 Karter Schult has been with D1 since 2017 and now serves as the Director of Football Operations for the D1 Football Apex Academy.
Karter is a retired NFL athlete with a decorated football pedigree, including having spent three seasons as a member of the Cleveland Browns, Carolina Panthers, and Minnesota Vikings.
Prior to his NFL experience, he had a distinguished, dominant, and celebrated collegiate career at the University of Northern Iowa. During his time at UNI, he was a 3-year starter who collected multiple years of academic and athletic accomplishments, including Athletic/Academic All-America teams. At the conclusion of his collegiate career, he left as one of the most decorated athletes in UNI Football history. Karter still holds multiple defensive season/career records, won MVFC Player of the Year, FCS Defensive Player of the Year, and became the first player in UNI football history to win the Buck Buchanan Award.