Challenge

ONLY A FEW SPOTS LEFT!
Sign up for the 4 Week Extreme Weight Loss Challenge now!
💥 Ready to shed those extra pounds and get in the best shape of your life for summer '23? 💪 We are kicking off our 4-week EXTREME weight loss program on May 1st! 🏋️‍♀️ 💥
Our experienced coaches will guide you through a customized workout plan designed to help you achieve your goals and reach your full potential.
How will we help you?
Body composition testing ⚖

Nutrition coaching 🥦

Workouts designed to shred while improving your metabolism 🏋️‍♀️

Restaurant ordering guide 🥩

Protein breakfast guide 🥣

Awesome community and accountability ❤️
There are a few spots left! Save your spot ASAP!
Email D1Henderson@D1Training.com with questions
Join the At Home Challenge Today!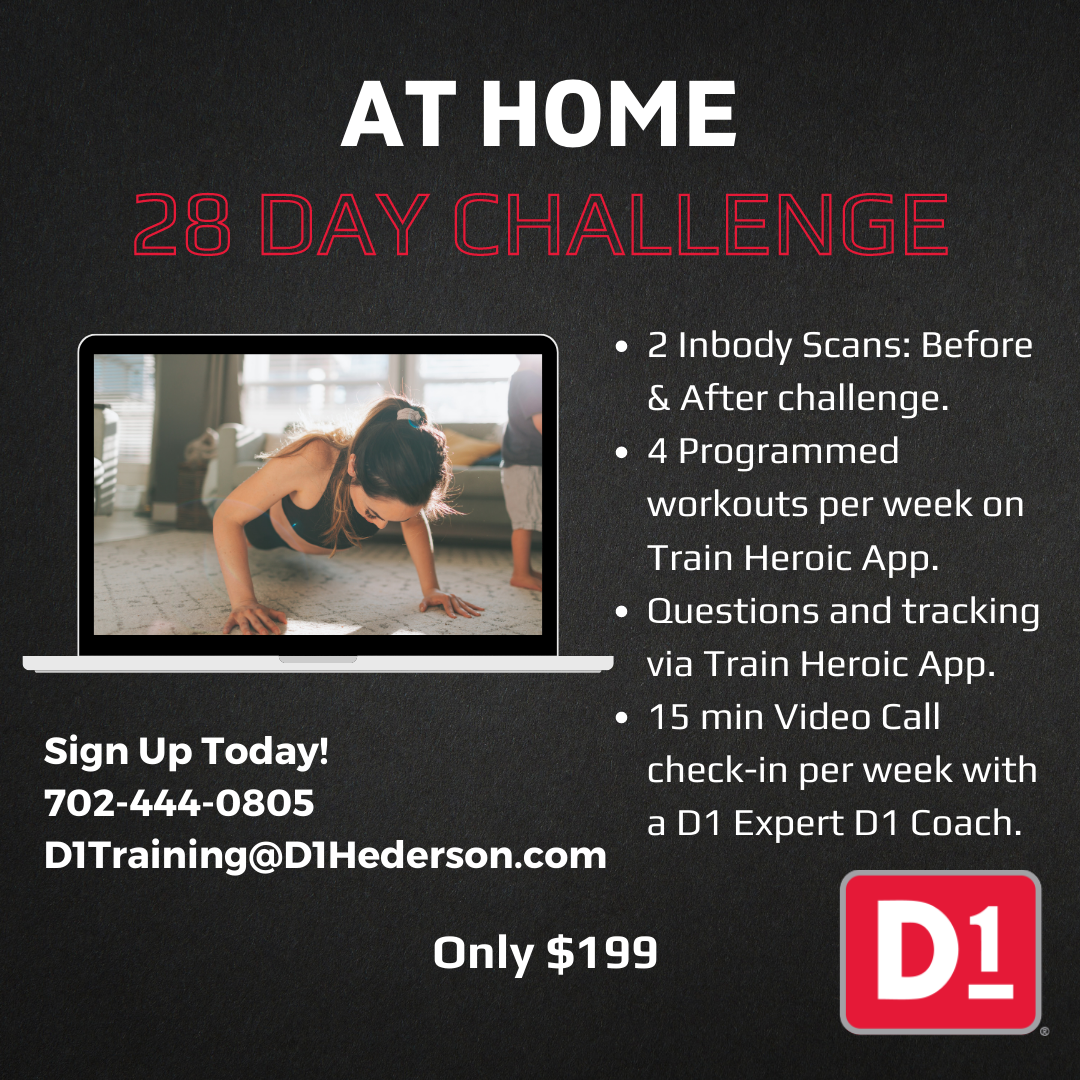 Hey there busy moms! Are you ready to prioritize your health and fitness? Join our 28-day at-home fitness challenge and get in the best shape of your life! Our program is designed specifically for busy moms like you, with fun and effective workouts that can be done from the comfort of your own home. Plus, our expert coaches will provide all the support and motivation you need to stay on track and reach your goals. With weekly video check-ins, personalized nutrition plans, and a community of other members cheering you on, you'll have everything you need to succeed. Don't let your busy schedule hold you back - join our 28-day at-home fitness challenge and become the strongest, healthiest version of yourself today!